A Feast of Serendib is a fabulous new Sri Lankan American cookbook by author Mary Anne Mohanraj.
Buy the Book:  A Feast of Serendib is available in hardcover and eBook, and can be found online at Amazon, Barnes & Noble, Books-A-Million, and more!  Please contact your bookstores and libraries to request that they carry it!
You can also order directly from us!  We're happy to offer you signed / personalized editions, as well as the exclusive paperback edition.
Read more reviews for A Feast of Serendib!
Explore a gallery of food photos from throughout the cookbook!
"Mohanraj does a superb job of combining easily sourced ingredients with clear, instructive guidance and menu recommendations for all manner of events…a terrific survey of an overlooked cuisine." – Publisher's Weekly
"Mohanraj's research driven approach to recipe development makes Feast a reliable introduction to Sri Lankan cooking for adventurous home-cooks and a sound resource for Sri Lankan families hoping to reclaim their culinary traditions at home." – Melissa Elsmo, Oak Park Eats
If you'd like to support the development of more mostly Sri Lankan recipes, I'd love to have you join the cookbook club — for $2 / month, you'll get recipes delivered to your inbox (fairly) regularly: https://www.patreon.com/mohanraj
And here's all the foodie social media:
Serendib Kitchen blog: http://serendibkitchen.com
Serendib Kitchen Instagram: https://www.instagram.com/serendib_kitchen/
Serendib FB Group: https://www.facebook.com/groups/132029834135500/
Serendib FB Page: https://www.facebook.com/mohanrajserendib/
Add Feast on GoodReads! Leave a review, or add to your "to-read" shelf to be informed of future giveaways.
---
Excerpt from Mary Anne's Introduction:  "We come together with other Sri Lankans—homelander and diaspora, Sinhalese and Tamil, Buddhist and Hindu and Christian and Muslim—over delicious shared meals.  Sri Lanka has been a multi-ethnic society for over two thousand years, with neighbors of different ethnicities, languages, religions, living side by side. We try to teach our children to be welcoming to all, to share our unique cultural traditions. That is part of what it means to be Sri Lankan, what it has always meant.
Can we choose the good parts of our culture to cherish, and leave the darker aspects behind? I hope so.  I hope food can help provide a pathway there.  Come together at our table, sharing milk rice and pol sambol, paruppu and crab curry.  Linger over the chai—just one more cup.  Eat, drink, and share joy."
---
Learn more about Sri Lankan Food:
• Ethnic Heritage and Colonial Influences
• The Structure of Sri Lankan Meals
• Master Recipe:  Sri Lankan Curry Powder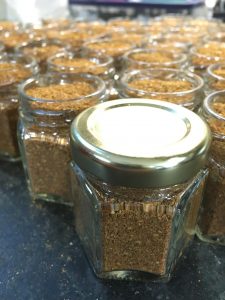 ---
Table of Contents:  A Feast of Serendib includes all of the above, plus:
Master Recipe: Seasoned Onions
Appetizers / 'Short Eats' and Snacks
      Chili-Mango Cashews / Kari-Maangai Kaju
      Chinese Rolls (usually Mutton)
      Curried Mushroom Spread
      Curry Buns / Mas Paan
      Fish (or Ground Beef, or Vegetable) Cutlets
      Plain or Prawn Lentil Patties / Kadalai or Iraal Vadai   
      Patties (usually Chicken)
      Ribbon Tea Sandwiches (Carrot, Beet, and Spinach)
      Tangy Shrimp on Toast
Eggs, Poultry, and Meat
Introduction to Meat and Poultry Curries     
      Deviled Chili Eggs
      Egg Curry / Muttai Kari
      Omelette
      Omelette Curry
      Eggs in Meatballs / Scotch Eggs / Nargisi (Narcissus) Kofta
      Braised Pepper Chicken
      Chicken Curry / Kozhi Kari
      Deviled Chicken
      Ginger-Garlic Chicken
      Roast Barbecue Chicken
      Fried Liver Curry / Eeral Kari
      Black Pork Curry / Panri Iraichchi Kari / Padre Kari
      Meatball Curry / Frikkadel
      Goat (Mutton) Curry / Aattu Irachchi Kari
      Lamb Curry / Semmari Aattu Iraichchi Kari
      Beef Smoore / Mas Ismoru
      Beef and Potato Curry / Mas Kizhangu Kari
      Tangy Peppered Beef Stew
 Fish and Seafood
      Crab Curry / Nandu Kari
      Cuttlefish or Squid Curry / Kanavai Kari
      Deviled Shrimp
      Fish White Curry / Meen Kari
      Mackerel and Egg Curry               
                
      Tamarind Shrimp Curry / Iral Kari
      Spicy Fried Fish / Poricha Meen
      Spicy-Tangy Fish / Ambulthiyal    
Vegetables
Basic Approaches to Vegetables
Curry (vegetables cooked in coconut milk)
      Beet Curry
      Carrot and Green Bean Curry
      Cashew Curry / Kaju Kari
      Drumstick Curry / Murungaikkai Kari
      Eggplant Curry / Kathrikkai Kari
      Green Mango Curry / Mankkai Kari
      Green Jackfruit Curry / Pilakkai Kari
      Okra Curry / Vendikkai Kari
      Ripe Jackfruit Curry / Palapazham Kari
Deviled (vegetables fried with cayenne, tomato and onions)
      Deviled Potatoes / Urulai Kizhangu
Poriyal (vegetables fried with seasoned onions)
      Asparagus Poriyal
      Brussels Sprouts Poriyal
      Cauliflower Poriyal
      Eggplant, Potato, and Pea Pod Poriyal
      Mixed Vegetable Poriyal
Tempered (cooked vegetables mixed with seasoned onions)
      Tempered Lentils / Paruppu
      Tempered Potatoes 
Varai (steamed or stir-fried vegetables with coconut)
      Broccoli Varai
      Cabbage Varai / Muttaikoss Varai
      Green Bean Varai
Special Dishes
      * Lime-Masala Mushrooms
      Vegetable and Lentil Stew / Sambar 
Accompaniments
      Cucumber Salad
      Pickled Beet Salad
      Green Coconut Chutney / Thengai Chutney
      Mango-Ginger Chutney
      Bitter Gourd Sambol / Paavakkai Sambol
      Chili Onion Sambol / Lunu Miris Sambol
      Coconut Sambol / Thengai-Poo, or Pol Sambol
      Eggplant Sambol / Kattharikkai Sambol
      Kale Sambol
      Sweet Onion Sambol / Seeni Sambol
      Coconut Milk Gravy / Sothi
      Coriander Soup / Kothamalli Rasam
      Cucumber-Tomato Raita
      Leeks Fried with Chili
      Mango Pickle / Maangai Oorukkai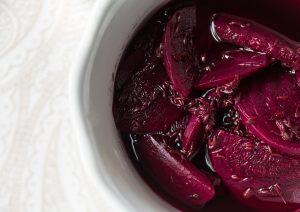 Grains
      Bombay Toast / Bombatoast
      Chopped Roti Stir-Fry / Kottu Roti
      Golden Rice Pilaf
      Herbal Porridge / Kola Kenda
      Hoppers / Appam
      Lamb Biryani (or Goat, Beef, or Chicken)
      Noodles
      Plain Roti / Kothambu Roti
      Red Rice Congee
      Savory Rice Pancakes / Thosai
      Steamed Rice Cakes / Idli
      Steamed Rice Flour and Coconut / Arisi-Maa Pittu
      Steamed Rice Flour and Coconut with Milk / Pal Pittu
      Stir-Fried Semolina / Uppuma
      Stringhoppers / Idiyappam
      Stringhopper Biryani / Idiyappam Biryani
      Vegetarian Biryani
Drinks
      Chai
      Cocktails
      Falooda
      Fresh Sweet Lime Juice / Thesikkai Saaru    
      Mango Lassi
      Mango-Passionfruit Punch or Mimosa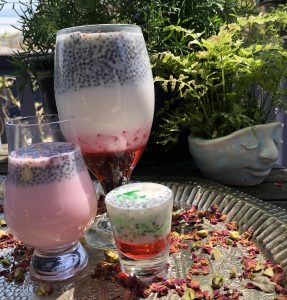 Sweets
      Love Cake
      Mango Fluff
      Marshmallows
      Milk Toffee / Pal Tofi
      Rich Cake
      Spiced Coconut Custard / Vattalappam
      Sweet Thosai / Inippu Thosai
      Tropical Fruit Salad with Ginger-Lime-Honey Dressing
      Tropical Fruit Salad with Chili, Salt, and Lime