I'm often asked what is characteristic of Sri Lankan food, and how it differs from Indian food.  The second question is difficult, because it's usually Americans asking me, and they're used to Americanized Indian food, which is often fairly generic and watered down—not actual food from India, which is dramatically different, depending on whether you're talking Mughal-influenced North Indian cuisine, mostly-vegetarian Gujarati, etc.
Two main elements are our use of dark-roasted curry powder across the island and goraka (a souring fruit, similar to tamarind) in Sinhalese cooking.  You won't find goraka in recipes here, though, as my Tamil family doesn't use it.  Other characteristic elements include wholesome red rice, plenty of chili heat, curry leaves, lots of coconut milk and shredded coconut, a bit of pungent dried Maldive fish in many dishes, and usually a bit of tang (from tomato, vinegar, tamarind, or lime). We also eat a wide variety of fish, poultry and meat dishes, which I think is somewhat unusual in South Asia, give religious prohibitions, but can be traced to a long-standing multiethnic and multi-religious population.  An island at the nexus of trade routes absorbs many culinary influences.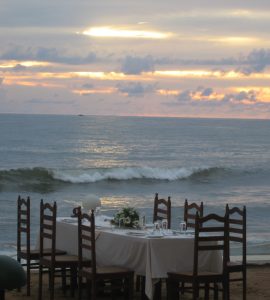 Sri Lankan cuisine has particularly strong similarities to Goan cuisine, in the Portuguese influence—more pork and beef than you might find in India generally, more vinegar in the curries, plenty of coconut milk, coconut, and fish, because Goa, like Sri Lanka, is coastal.  We tend to not make creamy milk-based curries, the sort you'd find in North India.  Sri Lankan cuisine also has commonalities with South Indian cuisine—the dry spiced poriyals, the commonality of sambar and rasam (with plenty of tamarind), with idli, dosai, and uppuma for grain-based dishes.
I came to America when I was two years old, and so I never ate like a Sri Lankan would back home; for example, I had usually cereal for breakfast growing up in Connecticut. A typical Sri Lankan breakfast is some idli and sambar, or string hoppers and sothi, perhaps with paruppu (lentils). I grew up disliking lentils and have only recently learned to love them, but most people in Sri Lanka eat lots of lentils regularly. If you were feeling fancier, you might make hoppers for breakfast (but you'd have to plan that the night before). Uppuma is also a nice change, usually with some fish curry. I've gotten addicted to eating American pancakes with curry—the sweetness of the pancakes works really well with a spicy curry.
As a child, I would have often eaten a bologna sandwich for lunch, but in Sri Lanka, lunches are rice and curries, often eaten around 3 p.m., and dinners are the same, often eaten around 9 p.m. Generally we would serve plain white rice, a meat curry, and a vegetable curry. Appetizers and fancier accompaniments are usually saved for when guests or more family come over, although you'd likely keep containers of sambol or pickle around, for added flavor. Some of my American friends are surprised when I tell them that I had rice and curry for dinner every single night when I was growing up—what can I say? If your mother is an excellent cook, then you never get bored by a little repetition.
The fancier dishes, the hoppers and pittu and stringhoppers, the patties and cutlets, the milk toffees and rich cake—those were all saved for parties. Usually, we stuffed ourselves on the delectable appetizers (called short eats), but somehow always managed to find room for dinner and then dessert.  If you need one more little bite to fill out a table, some fresh fruit sprinkled with cayenne, salt, and lime is always appropriate as appetizer or accompaniment.
Note:  Sri Lankans eat with their right hand, not with utensils, generally. It takes a little practice to learn how to make a neat little ball of rice and curry with your fingers, but more than a few of my friends have learned how over the years. Note that many of our recipes use whole spices such as cardamom pods, cloves, and cinnamon, that are not meant to be bitten into—when you're eating with your hands, it's easy to pick out and avoid those as you have dinner.
If you're planning on eating with a fork, you may want to either grind those spices before adding them, use pre-ground versions (generally not as strongly-flavored, so you may want a bit more), or tie them into a bit of cheesecloth that you can fish out before serving (this works better for a more liquid curry). If hosting a dinner party where guests will be eating with their hands, set a finger bowl at each place, so they can rinse and dry their fingers without leaving the table.