A Feast of Serendib, March 2020
"Mohanraj (Bodies in Motion), a literature professor at the University of Illinois, Chicago, introduces readers to the comforting cuisine of Sri Lanka in this illuminating collection of more than 100 recipes. Waves of immigration from China, England, the Netherlands, and Portugal influenced the unique cuisine of Sri Lanka, Mohanraj writes, as evidenced by such dishes as Chinese rolls (a take on classic egg rolls in the form of stuffed crepes that are breaded and fried); fish cutlets (a culinary cousin of Dutch bitterballen fried croquettes); and English tea sandwiches (filled here with beets, spinach, and carrots). With Sri Lanka's proximity to India, curry figures heavily, with options for chicken, lamb, cuttlefish, or mackerel. A number of poriyal dishes, consisting of sautéed vegetables with a featured ingredient, such as asparagus or brussels sprouts, showcase a Tamil influence. Throughout, Mohanraj does a superb job of combining easily sourced ingredients with clear, instructive guidance and menu recommendations for all manner of events, including a Royal Feast for over 200 people. This is a terrific survey of an overlooked cuisine."
– Publisher's Weekly
A Feast of Serendib is available in hardcover and Kindle editions on Amazon, and in hardcover, trade paperback, and eBook at our Serendib Kitchen Shop.
---
COMING SOON: Vegan Serendib, 2nd Edition
A new and improved edition of Vegan Serendib, formatted in the style of Feast and containing all of your favorite vegan recipes from the first edition, plus several new additions and adaptations from Serendib Kitchen!
Coming in Spring 2021.
Pre-orders available here!
---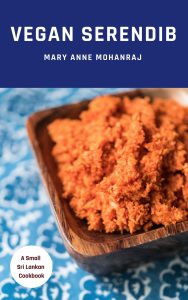 Vegan Serendib Sampler, August 2018
**Pre-order the new and improved Vegan Serendib: Recipes from Sri Lanka and receive a digital copy of this Vegan Serendib Sampler free!**
Appetizers:  
Dried Chili-Mango Cashews / Kari-Maangai Kaju
Vegetable Cutlets
Lentil Patties / Kadalai
Vegetables:
Basic Approaches to Vegetables
Cashew Curry / Kaju Kari
Eggplant Curry / Kathrikkai Kari
Green Mango Curry / Mankkai Kari
Green Jackfruit Curry / Pilakkai Kari
Okra Curry / Vendikkai Kari
Deviled Potatoes / Ooralai Kulunga
Cauliflower Poriyal
Eggplant, Potato, and Pea Pod Poriyal
Tempered Lentils / Paruppu
Cabbage Varai / Muttaikoss Varai
Green Bean Varai
Sambar
Accompaniments:
Pickled Beet Salad
Green Coconut Chutney / Thengai Chutney
Mango Pickle / Maangai Oorukkai
Coriander Soup / Kothamalli Rasam
Bitter Gourd Sambol / Paavakkai Sambol
Chili Onion Sambol / Lunu Miris Sambol
Coconut Sambol / Thengai-Poo or Pol Sambol
Eggplant Sambol / Kattharikkai Sambol
Kale Sambol
Sweet Onion Sambol / Seeni Sambol
Coconut Milk Gravy / Sothi
Grains:
Golden Rice Pilaf
Vegetarian Biryani
Herbal Porridge / Kola Kenda
Hoppers / Appam
Stringhoppers / Iddiyappam
Plain Roti / Godambu Roti
Chopped Roti Stir Fry / Kottu Roti
Savory Rice Pancakes / Thosai
Steamed Rice Flour and Coconut / Arisi-Maa Pittu
Stir-Fried Semolina / Uppuma
Sweets and Drinks:
Tropical Fruit Salad
Fresh Sweet Lime Juice / Thesikkai Saaru
Mango or Passionfruit Lassi
Arrack Sour
Mango-Passionfruit Punch or Mimosa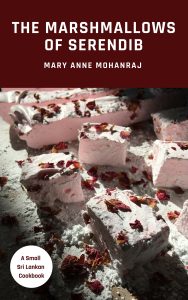 ---
The Marshmallows of Serendib, July 2018
Cook's Notes
Master Recipe
Vegetarian Marshmallows
Vegetarian Passionfruit Fluff
The Marshmallows:
Passionfruit (with Vanilla Bean variation)
Chocolate-Dipped Passionfruit
Bloody Passion
Strawberry & Soursop
Blueberry-Swirled Soursop
Ginger & Lime
Mango & Lime
Mango with Chili & Lime
Chocolate-Dipped Tamarind-Chili
Rosewater & Pistachio (with Lime Variation)
Honeyed with Rosewater & Saffron
Chai
Spiced Coffee
Epilogue: Marshmallow Magic
---
A Taste of Serendib, December 2003
Introduction:  Sri Lankan Cooking, from America
Sri Lankan Curry Powder
Appetizers:
Fish (or Ground Beef, or Vegetable)  Cutlets
Tangy Shrimp on Toast
Curried Mushroom Spread
Chicken Patties
Meat and Poultry:
Spicy Beef and Potatoes
Ginger/Garlic Chicken
Spicy Chicken Curry
Chili Eggs
Egg Curry
Fish and Seafood:
Crab Curry
Tamarind Shrimp Curry
Dry Spiced Prawns and Potatoes
Mackerel Curry
Vegetables:
Curried Beets
Carrots and Green Bean Yellow Curry
Cauliflower Curry
Mixed Vegetable Curry
Potatoes, Peas, and Tomatoes
Spicy Potato Curry
Lemon-Masala Mushrooms
Accompaniments:
Savoury Scallion Scrambled Eggs
Coconut Sambol
Seeni (Onion) Sambol
Fried Eggplant Sambol
Cabbage Mallung
Leeks Fried with Chili
Rasam
Kiri Hodhi (Egg and Potato Coconut Milk Gravy)
Cucumber-Tomato Raita
Mango-Ginger Chutney
Rice and Breads:
Golden Rice Pilaf
Vegetarian or Chicken Biryani
Pittu
Uppuma
Kottu Roti
Mock Stringhopper Pulao
Snacks:
Curry Buns (Meat or Vegetable)
Drinks:
Mango Lassi
Falooda
Chai Tea
Sweets:
Milk Toffee
Vattalappam
Lemon-Chai Rice Pudding
Rich Cake