Mas Paan is literally 'meat bread,' and is a favorite snack sold at roadside stands, hotel cafes, and transit stations across Sri Lanka.  The yeast bread may be filled with whatever curry you like — fish and vegetarian options are also common.  This batch, I made with some leftover pork and potato curry, but most often, I would make this with beef and potato curry.  Regardless, having thirty mas paan in my fridge and freezer means that I'll snack happy for a few days, take them with me while traveling — they're great to have on the road — and be able to pull some out of the freezer to toast up when I get home again.  It's best piping hot, but may also be happily eaten at room temperature.
Note:  If you don't want to make the dough by hand, and your grocery store carries frozen loaves of bread dough, I've thawed and used a pair of those for this recipe to good effect.  This recipe adapted from Charmaine Solomon's _The Complete Asian Cookbook_, with very little change.
Note 2: Minal Hajratwala has a fascinating chapter that explores the political significance of similar buns in South Africa, in her book on the diaspora, _Leaving India_. Highly recommended.
Mas Paan
(about three hours + currying time, makes 30)
1 batch meat and potato curry (about 2-3 lbs. meat, 3 russet potatoes)
Dough:
1/2 c. milk
3 t. sugar
2 1/2 t. salt
3 oz. butter
1 1/2 c. warm water
1 packet (about 2 1/4 t.) active dry yeast
5 1/2 – 6 c. all-purpose or bread flour
1. Make curry, if needed; it's tempting to make it while the dough is proving, but the timing can be tricky, since the curry needs to cool down, and your dough may overprove, turning yeasty. (I admit to risking it on occasion, though, for efficiency's sake.) The curry should be cooked until it is very dry, and then cooled down to room temperature.
2. Make dough: Scald milk, stir in sugar, salt and butter and cool to lukewarm. Measure warm water into a large bowl; stir yeast into water until dissolved. Add milk mixture and 3 c. of flour; beat until smooth. Add enough flour to make a soft dough. Turn onto a lightly floured board, and knead until smooth and elastic, about ten minutes. Grease a bowl with butter, then put the dough ball in, turning it to make sure it's all greased. Cover with plastic wrap or a cloth and allow to prove in a warm place until doubled in bulk (inside a turned off oven works well), about 1 – 1.5 hours. (This recipe is also used for making breudher in Sri Lanka.)
3. Divide the dough into 30 equal portions, flatten each portion to a circle and put a spoonful of meat and potato curry in the center. Bring the edges together, pressing to seal. If you keep the dough thinner at the edges when you're flattening it, that'll help keep it from being too bready at the bottom.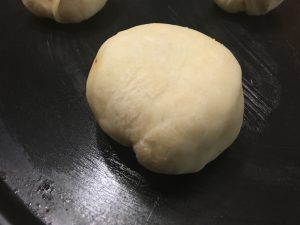 4. Grease baking trays and put buns with the join downwards on the trays, leaving room for them to rise and spread. Cover with a dry cloth and again, leave in a warm place for 30-40 minutes until nearly doubled in bulk.
5. Brush with egg glaze (egg whites or even heavy cream may be used instead) and bake in a hot oven until golden brown, about 10 minutes.  Lovely with hot, sweet, milky tea.