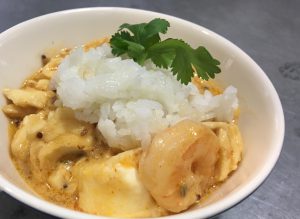 (30 minutes, serves 4)
Creamy, tangy, richly-spiced, with just a little heat; I was aiming for something my daughter would love.  Of course, feel free to amp up the chili powder or toss in some chopped Thai green chilies for a spicier version!  Use whatever seafood you have on hand — I pulled some frozen tilapia and shrimp out to toss into this.
1 onion, chopped
1/4 c. oil or ghee
1 T ginger, grated
3 cloves garlic, chopped
1 t. mustard seed
1 t. cumin seed
1/2 t. fennel seed
1/2 t. methi seed
3 cloves
3 cardamom pods
1 stick cinnamon
1/2 t. chili powder
1/2 t. Sri Lankan curry powder
1 stalk curry leaves
2 pounds seafood, cleaned
1 can coconut milk
1 T lime juice
coriander for garnish
1. Saute onions in oil or ghee with ginger, garlic, spices, and curry leaves until onions are golden-translucent, about ten minutes.
2. Add seafood and coconut milk. Bring to a boil, stirring, then turn down heat to medium and cook another ten minutes or so, until seafood is cooked through.
3. Continue cooking until stew is desired thickness. Add lime juice and stir in, then cook a minute or two more. Serve hot with fresh rice and chopped coriander.