(2 hours, serves 6)
This came out SO GOOD. I adapted this from an America's Test Kitchen Moroccan tagine recipe, amping up the chili powder to my taste, reducing the sweetness, increasing the tang, and switching out sultanas for apricots. The result is somewhere halfway between Sri Lankan and Moroccan food, and absolutely delicious served over couscous. My daughter loved the chicken (though she is not yet a couscous fan). It only has about 30 minutes of active cooking; after that, you're mostly just letting it simmer while your home fills up with incredible aroma. Clementines for dessert finish this meal off nicely!
4 pounds bone-in chicken thighs
salt and pepper
2 T olive oil
1 large onion, diced small
peel from half a lemon, cut into strips
1 t. chili powder
1/2 t. cumin powder
1/2 t. ginger powder
1/2 t. garlic powder
1/2 t. ground coriander
1/2 t. ground cinnamon
2 c. chicken broth
2 carrots, peeled and cut into diagonal chunks
1 c. sultanas
3 T lemon juice
1. Pat chicken dry and season with salt and pepper (about 1 t. each). Heat oil in extra-large frying pan or Dutch oven over medium-high heat. Add half of chicken and cook until well-browned, about five minutes per side; transfer to large plate. Repeat process with second half of chicken. Pour off all but one tablespoon of fat from the pan.
2. Add onion and lemon to pan and cook, stirring, for about five minutes. Stir in spices and cook a minute or two ore, then add broth, scraping up any browned bits. (If you wanted to add a cup of white wine here, it wouldn't hurt.)
3. Add chicken to pan along with any accumulated juices and bring to a simmer. Reduce hat to medium, cover, and cook twenty minutes.
4. Stir in carrots, return to simmer, and then re-cover and cook on medium-low for another 40 minutes, until carrots are cooked through.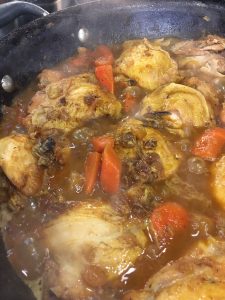 5. Transfer chicken to a bowl tented with aluminum foil and let rest while finishing your sauce. Skim off any excess oil. Discard the lemon peel, stir in the sultanas, and cook about five minutes. Add lemon juice and return the chicken and any juices to pan, simmering a few minutes more to combine. Serve hot over couscous or rice.