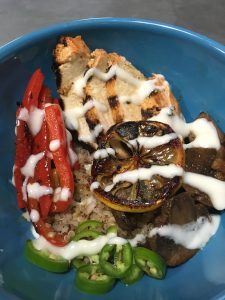 These fancy bowl things have long names. Another yummy experiment, and only about 30 minutes to make (assuming you pre-marinated the chicken in a tandoori-spiced yogurt earlier in the day).
Pre-heat your grill pan, then start the chopped mushrooms sautéing in a separate pan in butter, masala powder, salt and lime juice. Five minutes in, the grill should be hot, and you can turn the mushrooms down to simmer while you roast the peppers and then grill the chicken (3 minutes each side on high). Chop some chilies and mix up a drizzle while the chicken's finishing cooking (3 more minutes each side, on low, covered), and you're good to go. (The chopped chilies could be served on the side so people can spice to taste; I love chomping into them.)
I have to be honest, though, chicken breast doesn't excite me. It's just a little dry, even when you marinate it in overnight. But the roasted peppers, sautéed mushrooms, and yogurt drizzle did do a nice job balancing that, esp. with a little lemon squeezed over the top. Personally, I like breast better when it's chopped in more of a chicken salad sort of thing, so it stays really moist. But truly, if I made this particular dish again, I'd use chicken thighs instead.
(As a side note, while the bowl looks very pretty like this, it would be easier to eat if you cut the chicken and bell pepper into smaller pieces. And that slice of grilled lemon on the top is purely decorative!)