I keep messing with this recipe.  This version has the real shortbread crispiness that I love. 🙂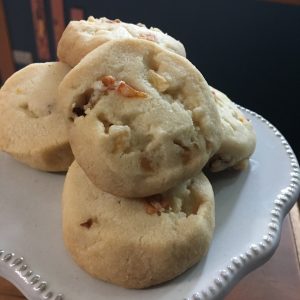 Mango-Ginger Shortbread
(makes about 40 cookies)
The way the butter lingers on your tongue, the hint of salt with the sweet fruitiness of the dried mango and the slight sharpness of the crystallized ginger? Heaven. Bake a few minutes longer if you're planning to dip them in coffee or tea.
3/4 pound unsalted butter at room temperature
1 c. sugar
1 teaspoon pure vanilla extract
3/4 t. salt
3 1/2 cups flour
1/4 c. dried mango, chopped fine
1/4 c. crystallized ginger, chopped fine
1. Preheat the oven to 350F.
2. Cream together the butter and sugar; add the vanilla and salt. Then add flour and mix on low until dough forms. Stir in mango and ginger.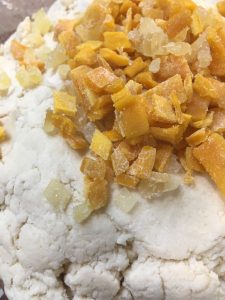 3. Turn out dough onto floured board, roll into logs. Cover in plastic and chill for 30 minutes. NOTE: Can be kept chilled at this point for several days, covered in plastic wrap, and then rolled, cut, and baked fresh.
3. Remove from fridge and cut slices. Chill individual cookies again for 10 more minutes (to reduce spreading). Place cookies on an ungreased baking sheet (I like the insulated ones for even baking).
4. Bake for 15 to 20 minutes, until the edges begin to brown, then remove to wire rack to cool. Delicious with chai!