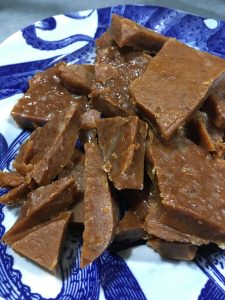 Passionfruit Brittle
So I admit, I set out to make caramels, and I got brittle instead. On the other hand, a) the brittle is delicious (fruity tang blending harmoniously with the dark sweetness of the caramelized sugar, yum), b) now I know how to make brittle, and c) I can still try to make caramels tomorrow.
I'm going to call this a win-win. 🙂
1 14 oz. can sweetened condensed milk
1/2 c. passion fruit puree
1. In a large pot, combine all ingredients and stir to combine. Butter a large Pyrex dish.
2. Heat pot on medium, stirring periodically, until a candy thermometer measures 240 degrees F (soft ball stage).
3. Pour candy out into baking dish and let cool a few hours. Peel up from the bottom of the dish (otherwise it may stick hard), and the chill in the fridge until quite hard, another hour or two. Break apart into brittle pieces and enjoy.