(1 hour, serves 6-8)
Cooking this in the Instant Pot only saves about 30 minutes off the traditional recipe, but it does make it easy to set it going, and then wander off, knowing it'll be kept nice and warm for you until you get back. When I made this test batch, I was able to take Anand to his swim lesson after I set the pressure-cooking going, knowing that it'd be all done and ready for me to eat when we got back!
This traditional tangy, peppery dish gets its dark color from the combination of dark roasted curry powder, tamarind paste, and lots of black pepper. (The colloquial name 'padre kari' refers to the black robes of a padre / priest.) Tamarind paste is fairly easy to find in Mexican and Indian markets, or you can order it online. It keeps well in the pantry for a long time, even after opening. Typically, you'd leave a good portion of the fat on the pork pieces; it soaks up a ton of flavor, and is truly delectable, balancing the meat, which can otherwise be a bit dry after long cooking. But you can trim all the fat off if you'd prefer.
3 medium onions, chopped
2 TBL ginger, chopped fine
6-8 garlic cloves, smashed
6-12 curry leaves (optional)
1 tsp black mustard seed
1 tsp cumin seed
3 TBL vegetable oil
1 TBL Sri Lankan curry powder
1 heaping tsp salt
4 tsp black peppercorns
3 lbs pork shoulder, cubed, about 1 inch pieces, with some fat left on
3 tsp tamarind paste
1/2cup white vinegar
1. In the Instant Pot, sauté onions, ginger, garlic, mustard seeds, cumin seeds, and curry leaves in oil until onions are golden/translucent (not brown), stirring as needed.
2. Add curry powder, salt, and peppercorns, stirring to combine, then add pork and sear, stirring occasionally, for a few minutes, to bring out the flavor of the meat.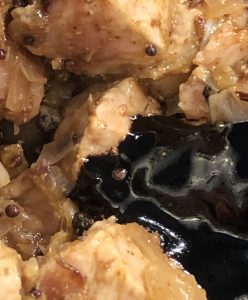 3. Add tamarind paste and white vinegar; stir well.
4. Set to pressure cook for 30 minutes; allow pressure to release before opening. Serve hot, with rice or bread.