Heather and I spent much of the weekend assigning photos to recipes for Feast — only to find that I somehow didn't actually have a photo of the beet curry. So I made it again today and photographed it.
🙂 Guess I know what's for dinner tonight…
*****
Sri Lankan Beet Curry
(30 minutes, serves 4)
This dish has a lovely sweet flavor with just a hint of spice—beets have a higher sugar content than any other vegetable, and sugar is sometimes made from beets.
3 medium onions, chopped fine
3 TBL vegetable oil
1/4 tsp black mustard seed
1/4 tsp cumin seed
4 large beets (about one lb), peeled, cut in thick matchsticks
1-2 rounded tsp salt
1 rounded tsp turmeric
2-3 tsp lime juice
1-3 chopped green chilies
two dozen curry leaves (optional)
2 cups coconut milk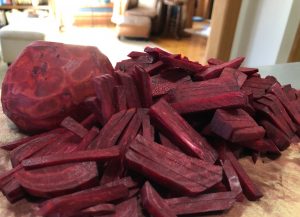 1. Sauté onions in oil on high with mustard seed and cumin seeds until onions are golden/translucent (not brown). Add beets, salt, turmeric, lime juice, chilies, and curry leaves.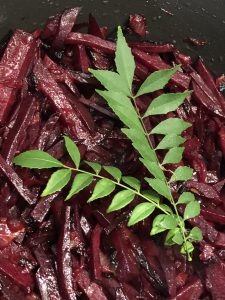 2. Lower heat to medium and add coconut milk. Cover and cook, stirring frequently, until beets are cooked through, about 20 minutes.
3. Remove cover and simmer, stirring, until well blended. Serve hot.