Hm. Well, this is a semi-success. On the one hand, I needed curtains in the shed windows, because the sun coming in makes it too hot in the height of summer, and the lack of insulation makes it too cold in the depth of winter. And the curtains took 20 minutes to cut and sew, another 5 minutes to hang, and I do love the fabric I used for this, Robert Allen's Folkworld pattern in the Aquatint color way, which I used a little under two yards of, at $15 / yard on remnant clearance at fabricguru.com.
BUT — I think maybe this isn't what I want for this space long-term. I had waffled and waffled, thinking about map prints and space prints and finally settled on this one because I like it so. I do like it! We used the same print in his Admiral colorway for the backing cushions in our eat-in area, and it's perfect there, we get so many compliments.
This is equally charming, and the animals are certainly appropriate to the garden. I particularly like how the gold thread I used picks up the gold of the flowers; I think it's an interesting decorative element added to the curtains.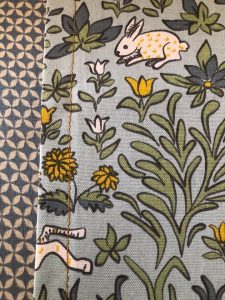 BUT, I think maybe I should've gone with my original plan and just stuck to off-white to match the interior monk-like paint job (or grey, the color of the chair and accent pieces). Because the star of the show in my shed really is the garden, and this fabric (which I bought 6 yards of, so enough to also do coordinating curtains for the long French doors AND probably the little single window on the opposite side) is sort of too pretty in its own right. It's actually distracting me from the garden's loveliness, rather than complementing it, I think.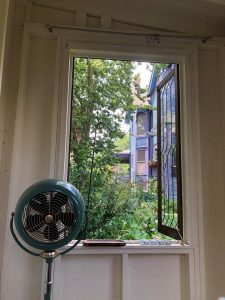 Hm. I suppose I will leave these up until I have time and energy to go buy off-white fabric and re-do them, which may be a while. They can be functional, at least.
But that said, if any locals reading this has an interest in some 5′ long curtains (just covering a 4′ wide opening, without excess), let me know? I'd be happy to sell them to you for cost, so $25.
NOTE: They're not perfectly sewn, because I was thinking it was just for my shed, and it didn't matter if it wasn't perfect — one end is a little long on one, so you may want to re-sew the bottom hem, though if you use clips, it's easy enough to just hang one a little higher to achieve an even hem at the bottom; that's what I did. ALSO, I think I didn't really have the tension set right on the machine, as the thread doesn't seem to be laying quite right. I mean, it's fine, but not if you're someone who actually knows anything about sewing. 🙂
Or if anyone's interested in the remaining yardage (a little over 4 yards, 54″ wide), I'd happy to sell you that at cost too ($60). I'm trying to think what I can do with it other than sell it. It'd make cute playroom cushions, but I don't really need anymore of those. It's upholstery fabric, so a little heavy for a dress. Maybe someone with little kids (or a daycare?) could use it.
(Non-locals, if you want it badly enough to pay for shipping, that's fine too. 🙂 )
And hey, if any locals coming to upcoming Maram's Tea and Textiles meet-ups (Aug 3, 24, 31) wants me to show you how to hem basic curtains like this, it's SO EASY, and I'd be happy to. You do have to either use my machine, or bring one you know how to thread. I can try to thread another machine, but I'm no expert, so no guarantees.
#marammakerspace
#serendibhome
#blog