Okay, we're now uploading official ARCs, eep. Will order copies for big review outlets, and for ourselves, and then will have hopefully only minor proofing edits before we're ready to actually go to print. One thing that might change is the back cover — I admit, I don't love having a photo of me there, but I think that's probably just self-consciousness and I should get over it?
But on the other hand, I'm kind of hoping we get a nice review or two from a big outlet (or maybe a blurb from a famous food person — do I know any famous food people, or people who know famous food people?), in which case, we'll be editing the back cover to make space for them anyway. So maybe best not to fret about it now…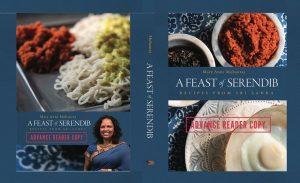 Kickstarter folks, my plan is that you'll get your SPECIAL ADVANCE COPY as soon as we proof the ARC. This will be a limited edition run just for Kickstarter backers, so you'll get it in August, barring unforeseen complications. Everyone else has to wait to official launch in October, the poor saps. Your edition probably won't have blurbs on the back cover, but I assume you're okay with that. 
🙂 Again, thank you!
(Heather Rainwater Campbell! Today, can you go through the Kickstarter rewards list, and make sure we're all set to actually fulfill all the rewards? I need to make someone a scarf, for example, and I'd love to ship it to them in August, which means I need to get the yarn and get cracking on that ASAP. I'll need to make curry powder, etc., so may need to order more spices. And IMPORTANT, we're supposed to list the backers somewhere, and I don't remember where…in the hardcover? In the ebook? Both? On the website…?)