Kevin kindly chopped an onion for me when I first came down with this cold, so I could make myself some comfort food. With hard-boiled eggs, pol sambol and mango spears already in the fridge, this took maybe 10 minutes to cook.
Set onions sautéing with spices; in a separate pan, start boiling water with butter for uppuma; add can of mackerel and rest of ingredients to spiced onions and simmer; add rava to boiling water and stir. Uppuma and spicy mackerel curry. (Normally, I'd simmer it for longer, let the spices really meld with the fish, but when I'm this tired, fast is just fine.
This makes about four meals for me, for maybe $4 of ingredients, so about $1 / meal? Fast, cheap Sri Lankan comfort food. It got me through being a broke grad student, and works pretty well for sick mama too. Good omega-3 fish oils, calcium in the soft bones, healthy protein.
What's your favorite easy comfort food? Bonus points if it's good for you and/or cheap. 
🙂
*****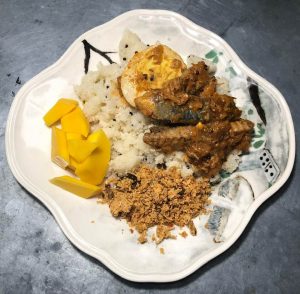 Mackerel and Egg Curry
(40 minutes, serves 4-6)
People get scared of this dish because they think mackerel is overly fishy—and food snobs may put their noses in the air when they realize I'm using canned fish. All I can say in response is that this is one of my all-time favorite dishes. When served with uppuma, it's complete comfort food, but it's also good with rice or bread, and it reheats well for several meals of yummy goodness. It's also cheap, while still packed full of healthy protein and fish oil—I practically lived on this in grad school.
3 medium onions, chopped
3 TBL vegetable oil
1 tsp black mustard seed
1 tsp cumin seed
2 TBL (less or more to taste) cayenne
1 TBL Sri Lankan curry powder
1/3 cup ketchup
1 heaping tsp salt
1-2 cups water
1 flat tsp tamarind paste (or more to taste)
1 15 oz. can mackerel, drained and rinsed
4 hard-boiled eggs, peeled and sliced in half
1. Sauté onions in oil on high with mustard seed and cumin seeds until onions are golden/translucent (not brown). Add cayenne and cook 1 minute. Immediately add curry powder, ketchup, and salt. Stir well.
2. Add water and bring to a boil. Add tamarind paste and dissolve. Lower heat to medium and add mackerel. Cover and cook, stirring occasionally (and carefully, so as to not break up the fish too much). Cook until sauce thickens, 20-30 minutes. Add eggs gently to dish and spoon sauce over. Serve hot.
*****
Stir-Fried Semolina / Uppuma
(20 minutes, serves 4-6)
When I was harried in grad school, I made a very fast, very simple version of this often — five minutes to boil water, add semolina with some butter and salt, stir, and serve. Served with spicy egg and mackerel curry, it's a wonderful breakfast or dinner; the soft uppuma blends beautifully with the fish — my ultimate comfort food.
This version, which is a little more time-consuming, offers more vegetables, more interesting seasonings, and a fluffier texture — it's tasty on its own, or with a vegetable or meat curry. Both versions are great!
2 TBL butter
1 onion, chopped fine
3 dried red chili pods
1 tsp black mustard seed
1 tsp cumin seed
1 stalk curry leaves
1 rounded tsp salt
2 carrots chopped small
1/2 cup peas (or chopped green beans)
3 cups water
2 cups coarse semolina
1. Roast semolina in a dry pan over medium-high heat, stirring constantly for about five minutes, until it's darkened slightly. This will give the end result a fluffier texture, with less clumping. Remove to a plate and set aside.
2. Sauté onions with seasonings in butter on medium-high for a few minutes.
3. Add carrots and continue to cook until carrots are softened and onions are golden-translucent. Add peas and cook a few minutes longer.
4. Add water; bring to a boil.
5. Turn down to a simmer and quickly pour in the semolina, stirring constantly, making sure all the wheat is moistened. Remove from heat and allow dish to sit for a few minutes before serving. Serve warm.
Note: You can use farina (sold as Cream o'Wheat) instead of semolina for an almost identical result. Semolina comes from durum wheat (high in protein, produces more gluten). Farina comes from any hard wheat but durum.
*****
My new Sri Lankan cookbook, A Feast of Serendib, launches on March 6, 2020, but we're doing a long, slow pre-launch of the special Kickstarter edition in the interim. Right now, we still have discounted Kickstarter pricing available for pre-orders, along with Kickstarter goodies — you can pre-order here: http://serendibkitchen.com/a-feast-of-serendib/
If you'd like to support the development of more mostly Sri Lankan recipes, I'd love to have you join the cookbook club — for $2 / month, you'll get recipes delivered to your inbox (fairly) regularly: https://www.patreon.com/mohanraj
And here's all the foodie social media:
Serendib Kitchen blog: http://serendibkitchen.com
Serendib Kitchen Instagram: https://www.instagram.com/serendib_kitchen/
Serendib FB Group: https://www.facebook.com/groups/132029834135500/
Serendib FB Page: https://www.facebook.com/mohanrajserendib/
Thanks for your support!