Hardcovers!!! This is what 100 hardcover cookbooks look like. And yes, I pored over it obsessively tonight until I finally found both a typo and a word choice I'd like to edit, but that just means God won't smite me down for hubris, because otherwise, this cookbook is pretty close to perfect. 
🙂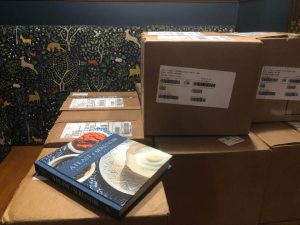 I think I started seriously working on this book in the summer of 2017, so more than two years ago.
A long (but tasty) road.
(Side notes: Jeremy John Parker, I was setting up a book event today, and the cafe owner asked who had done the book design, because it was really, really good. I agree. Thank you for making this labor of love so beautiful.
Pamudu Tennakoon, every time the book falls open to one of your illustrations, it makes me smile (and for the paperback, which has no photos, your illos absolutely make the book). Paul Goyette, it's a privilege having one of your photos on my cover, and so many of them in the book.)
***
My new Sri Lankan cookbook, A Feast of Serendib, launches on March 6, 2020, but we're doing a long, slow pre-launch of the special Kickstarter edition in the interim. Right now, we still have discounted Kickstarter pricing available for pre-orders, along with Kickstarter goodies — you can pre-order here: http://serendibkitchen.com/a-feast-of-serendib/
If you'd like to support the development of more mostly Sri Lankan recipes, I'd love to have you join the cookbook club — for $2 / month, you'll get recipes delivered to your inbox (fairly) regularly: https://www.patreon.com/mohanraj
And here's all the foodie social media:
Serendib Kitchen blog: http://serendibkitchen.com
Serendib Kitchen Instagram: https://www.instagram.com/serendib_kitchen/
Serendib FB Group: https://www.facebook.com/groups/132029834135500/
Serendib FB Page: https://www.facebook.com/mohanrajserendib/
Thanks for your support!