Feast sneak peek party help from my wonderful relatives, Marietta Aunty (my mother's first cousin) and her daughter Genisha. They couldn't even stay for dinner, but they insisted on helping. It gives my cookbook a little bit of added luck, having their hands in the mix — this is what a Sri Lankan community cookbook should be like.
Feast is meant to be a celebration of our food, culture, community. Any time my mother was cooking for a party, her sisters would be there, helping to cook, exchanging family news and advice in the kitchen, strengthening bonds.
This was the perfect way to start things off. ❤️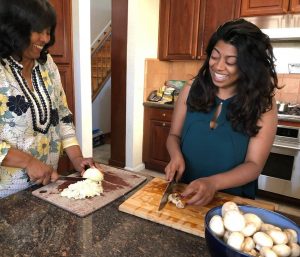 ***
Let me also take this opportunity to point you all to my aunt's organization, which currently is running three labs in northern Sri Lanka: Sponsor A Mind Build A Life (SAMBAL) was established to provide charitable assistance to children who are disadvantaged due to war, poverty, natural disasters and other calamities primarily in Sri Lanka, India, Malaysia, Pakistan and Bangladesh. http://www.sambalnow.com
***
My new Sri Lankan cookbook, A Feast of Serendib, launches on March 6, 2020, but we're doing a long, slow pre-launch of the special Kickstarter edition in the interim. Right now, we still have discounted Kickstarter pricing available for pre-orders, along with Kickstarter goodies — you can pre-order here: http://serendibkitchen.com/a-feast-of-serendib/
If you'd like to support the development of more mostly Sri Lankan recipes, I'd love to have you join the cookbook club — for $2 / month, you'll get recipes delivered to your inbox (fairly) regularly: https://www.patreon.com/mohanraj
And here's all the foodie social media:
Serendib Kitchen blog: http://serendibkitchen.com
Serendib Kitchen Instagram: https://www.instagram.com/serendib_kitchen/
Serendib FB Group: https://www.facebook.com/groups/132029834135500/
Serendib FB Page: https://www.facebook.com/mohanrajserendib/
Thanks for your support!