Feast production & event updates, many! Kickstarter ordering is officially closed! Kickstarter backers (THANK YOU), please do update your shipping addresses if needed, as we're going to be shipping out SOON.
1) LOS ANGELES: First and most time-sensitive — if you're going to be in L.A. on Halloween weekend, I'll be there for World Fantasy, and will be delighted to hand-deliver signed books to you! The convention is at the Los Angeles Airport Marriott, so we can meet for a drink in the bar, and I can hand you a book!
Some will be available in the dealer's room at WFC at the Book Universe table (along with The Stars Change and Perennial), but Kickstarter backers should contact me if they'd like to pick up their copies, so I'll be sure to set your copies aside. And ditto for anyone reading this who'd like to pre-order a copy; just let me know.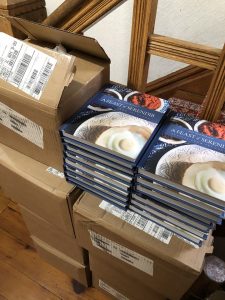 Kickstarter pricing ended last night, so books will be at the World Fantasy sale price of $37.95 (hardcover) and $22.95 (trade paperback, no photos in book). (Normally $40 / $25).
***
2) SPRING 2020 LAUNCH: As for the main launch in March, I've now paid the thousands of dollars of shipping cost (eep!) for 2000 copies of Feast (Mascot Books edition, not Kickstarter). This is to get it from the book production facility overseas to the warehouse in America. They will literally be coming on a slow boat from China, arriving sometime in mid-January.
I'll then be paying again to get some copies shipped to me. You'd think I could split the order and send some here and some to the warehouse, for efficiency's sake, but it'd be an extra $2K or so to do that, just because they're not set up for that kind of thing. Sigh. Going to try to keep it to a few hundred dollars instead.
Ah well. More unanticipated costs here, there, and everywhere. But on the other hand, Farah just sent me a lovely note about her copy of the book, so that's at least one happy customer, which bodes well for future sales. Fingers crossed.
(I am learning a LOT in the process; I do still want to do more books with Serendib Press, but big print runs of full-color hardcovers are a major project and serious financial risk, so may not do a lot of those! Ebooks. Ebooks are lovely.)
When it's time to get books over to me in Chicagoland, we'll be ordering them in cartons of 14 hardcovers each, and it'll come via UPS ground — I thought media mail, but this hybrid publisher has stopped using media mail because too many books were damaged in transit. So by mid-February, I think, barring disaster, in good time for launching at FogCon in early March. Look, it's a schedule! We're keeping to it. Yay!
***
3) EVENTS: Next week, Pem Hessing and I are going to sit down and start working on the launch calendar in earnest. There'll be some local events before that, though — please note the two FREE cookbook classes coming up in the next week at Oak Park Works:
Monday 10/21, 6-7:30, FREE
Saturday 10/26, 12 – 1:30, FREE
They're free, but do require registration, link in comments. I'll have cookbooks and curry powder available for sale there, and some milk toffee and passionfruit marshmallows to taste!
***
4) COOKING CLASS: There's also a fun event coming up soon, a cooking class at SugarBeet, where I'll be teaching people how to make hoppers: plain, egg, and sweet coconut. I'm going to make some curries (probably one chicken and one eggplant) and sambols (coconut and caramelized onion) in advance, to accompany the hoppers.
Bring a friend or partner; you'll make yourselves a delicious brunch, accompanied by mango-passionfruit mimosas. Print books not included, but I'll have some books available for sale (and $10 off!), if you get inspired, and you get to take home some fresh-roasted curry powder too. What a great date!
I'm not sure how many spots are left, so register quick!
Sunday 10/27, 10 – 12, $45.