Having fun prepping for the little Daly Bagel benefit brunch tomorrow. Amanda Daly and I are doing a little fusion bagel + Sri Lankan brunch (10-12 on Sunday), and I've been working on the menu. (Ticket link in comments — a few more spots available, until midnight tonight. $60 each, and you'll be helping open up Amanda's bagel shop!)
It's super-interesting thinking about what Sri Lankan flavors would go well with bagels. 🙂 Amanda's bringing chai bagels, also plain and I think sesame.
So far, I'm thinking:
a) green chili, onion, and vegetable frittata
b) curried salmon spread
c) Sri Lankan-style grilled jumbo shrimp (nice on a bagel sandwich with a little whipped cream cheese and some sliced tomatoes and red onion, maybe a little avocado?)
d) kale mallung (like a salad) with coconut, lime, and pomegranate seeds
e) curried chicken salad with mango and cashew
f) passionfruit & cream cheese spread (which I think might also be nice for tea sandwiches) — with a little mango w/chili and lime on the side, in case you'd like to add that
And then I've got some apple cider with ginger to mull, some mango kefir, and a little Sri Lankan arrack to add to the eggnog (if you like) because it's the holiday season, after all. And Amanda was going to bring mango juice and prosecco.
I've just finished a batch of milk toffee too, so will put that out with the mulled apple cider marshmallows. Good? Good. 🙂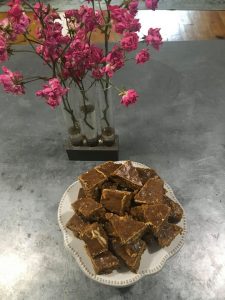 Now I need to think about what guests will get in their goody bags. I'm thinking some recipe postcards, rose & sandalwood bath salts, some jasmine & lime soaps, and batches of homemade curry powder, of course!
Plus $5 off if they'd like to buy a cookbook too. 🙂
#serendibkitchen
#dalybagel