Reading / buying books question for y'all. Harriet Culver, one of my Kickstarter backers, noted that she was feeling bad that she couldn't buy the book on launch day because she already had a copy (which is goofy to feel guilty about but I love her for it), and then she realized she could buy the ebook on launch day, boosting it in the rankings, so she did that, and she says that she'll even use it more, since her household is more likely to use a digital device in the kitchen. (I don't even know Harriet, but clearly all writers should have friends and readers like her!)
But all that made me realize that I feel a little bad making people buy two editions. Hm. Will have to think this through a little. Stephanie is out of town this weekend, but when she gets back, I think she and I will talk about this with Heather. I sort of think if you buy the hardcover, I'd like you to also be able to get a copy of the ebook for personal use for a nominal extra fee — maybe $5 more or some such.
What do writer / publisher / reader people think?
I wish publishers did that kind of thing generally — if I buy a print edition of a book, have the option of also getting the Kindle edition for $5 more? I think I'd choose that a lot, esp. since I prefer print for having in my office to loan out to students, and for reading relaxedly in the house, or for taking to the beach, and I prefer Kindle for travel (and having a copy always on hand for teaching), but I can rarely convince myself to pay full price for two separate formats.
Thoughts?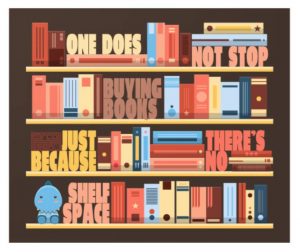 (Art print design by porcodiseno.)
https://www.teepublic.com/poster-and-art/2776866-buy-books-reading-book-shelf-space-library-bookwor