Kevin handed in his grading, and I have about an hour left to do tomorrow, I think, so I've started the summer cocktail experiments. Woot!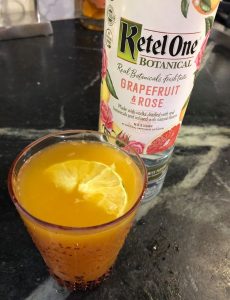 (This is where I pause and reassure my dad that I am still very much a lightweight and hardly drink at all, he doesn't need to worry. I will nurse one drink like this for an hour, and most weeks, don't have any alcohol at all. Okay, onwards.)
*****
Passionfruit Moscow Mule
(makes two servings)
4 ounces vodka — I used grapefruit & rose, mostly because it was just SO PRETTY, yes, Ketel One, you got me
1/2 cup passion fruit pulp
2 tsp lime juice
8 ounces ginger beer
fresh lime to garnish
I would say that this is tasty, but only if you like sour. Between the grapefruit vodka, the passion fruit, and the lime juice, you have three kinds of sour going here. If I were making it again, I'd rim the glass with jaggery sugar, for sure.
Kev and I were talking about how this compares to a whiskey sour (which is often my bar drink of choice; I'm a girl who loves the tang), and he said that whiskey has more complex flavors for the sour to play against, so it works better. I think that's probably right — this cocktail is fine, but I wouldn't say it's really interesting, as it stands? Will have to think about how I'd want to tweak it.
Side note: I do have a particularly sour batch of passionfruit puree on hand right now, so that may be affecting my assessment slightly. Fresh passionfruit is often more sweet than this. So maybe just adding in a little sugar would address it. I'd also like to make it with some fresh passionfruit, because all the little seeds would look cool in the drink. So expect to see another variation on this sometime, whenever I can get my hands on fresh passionfruit. (Pete's sometimes carries it…)