Hope everyone reading had a quiet night. I was grieved to read of a death at the North Riverside mall yesterday; I hope we can swiftly move forward towards justice without further bloodshed.
It's the last week of school here; I woke up before Anand for a change, and decided to exert myself a bit to make a nice breakfast — waffles and sausages. The kids have done okay with remote / unschooling during the pandemic, but they'll be relieved when it's over, and so will we. I thought they could use a little strengthening food as we contend with the final week.
I've recently discovered that waffles + seeni sambol + syrup = delicious. You don't even need butter, as there's enough oil / ghee in the seeni sambol. It's so good, if I had a little cafe, I'd put it on the brunch menu. Serve with fresh mangoes if you can.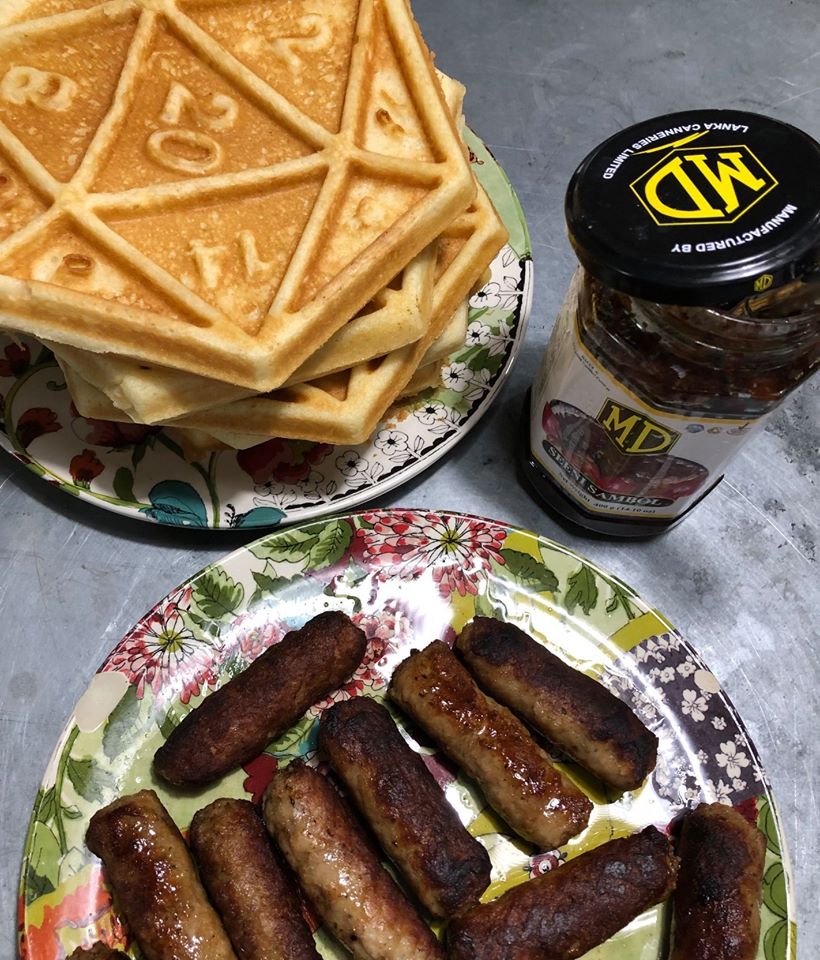 Plan for today — finish reading Sorcerer to the Crown, which continues a delightful, ridiculous romp. The next book in my queue is the graphic novel, Vanni, centered on the Sri Lankan conflict, which is rather more somber; it helps to have something light to interleave between the darker pages. A little sweetness.
Exercise soon and a walk through the garden, then by 9, I hope to be settled in my writing shed for the first day of summer writing. Minimal goal of 1000 words for the day (about an hour of writing), although I'm hoping to get quite a bit more done, as I have a story overdue to my local workshop; if I can knock that out today, or at least enough of it to be worth showing them, I will. It's a story about riots and revolution; hoping I have the heart and mind to do it justice.
Wishing you strength and sweetness for your battles today, and rejuvenating rest when you need it.