And we have a winner — seeni sambol & egg patties.  They are so, so good.  I took our standard Sri Lankan patty dough, rolled it thin, cut circles, all the way you would for typical chicken patties.
I did some extra small, to see how they'd come out, and they were very cute when fried, and a nice little snack — I ate some on the flight today, and they were lovely with tea at room temperature.  (I also tried baking one, and it was, I'm afraid, pretty eh.  They want frying.)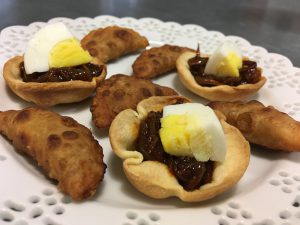 But when they're that small, there isn't room for egg, and I wanted the unctuousness of the egg balancing the intensity of the seeni sambol.  So I went back up to typical patty size (which is just fine for a tea or cocktail party anyway), filled it with seeni sambol and a sixteenth of a boiled egg (you could do an eighth, but I wouldn't recommend anything bigger), folded it and crimped it up.  (I tried making one that was round, which was a fun experiment, but I didn't like it as well as the classic patty shape.)
Then, for a little added color and zing, I brushed it all with an egg wash, and then deep-fried it.  It. was. perfect.  I'll write the recipe up properly the next time I make it; all the experimenting meant that I wasn't up for measuring everything until I knew which was the winning approach.  Maybe for New Year's!
But in the meantime, if you know how to make patties already, it's very easy to adapt for seeni sambol.  Leave out the Maldive fish if you like, and your vegetarian friends will thank you for this delectable little snack.