I ran out of canola oil while setting up to deep-fry these; luckily Kat (who lives across the way) had some coconut oil she could send over with a child. So I fried in a combo of the two, which I think was perhaps perfect — the canola gave the characteristic crispiness, and the coconut gave some extra richness. I hadn't fried in coconut oil before, though, and was really surprised when I put the first patty in — it foamed up dramatically (which may have had something to do with combining the two oils — I'm not sure)! I called Kevin over to make sure I wasn't doing something wrong. But all was very well, and they were soon devoured. (Pictured below is a double-batch, filling three plates.)
Patties (usually Chicken)
(2 hours, makes about 30)
These are classic party appetizers (or short-eats, as we call them); patties can also be made with a mix of meats — chicken, beef and pork work well together. The filling may be made in advance and frozen if desired, or you can go all the way to filling the patties and then freeze them in layers, with sheets of parchment paper to separate, before the final frying step. That makes it easier to manage prep for a big party. Allow patties to thaw completely before frying.
1/4 cup thick coconut milk
2 1/2 lbs boneless chicken thighs
1 medium onion, finely chopped
8 curry leaves, on the stalk if possible
2 rounded tsp Sri Lankan curry powder
1 rounded tsp ground turmeric
1/4 rounded tsp ground cloves
1/4 rounded tsp ground cinnamon
1/2 rounded tsp ground black pepper
2 strips lemon rind (or roughly that amount of lemongrass)
1/2 cup thick coconut milk
1-2 lightly-beaten egg whites for sealing pastry
1. Make filling. Put chicken into a saucepan with just enough water to cover, bring to a boil, cover and simmer for 20 minutes. Cool chicken, remove from pot (reserving stock), and mince. (In a food processor is fine.)
2. Heat ghee in a saucepan and fry the onion and curry leaves until onion is soft and starts to brown. (Leaving curry leaves on the stalk will make it easier to remove them at the end.) Add the curry powder, turmeric, cloves, cinnamon, pepper, and salt and stir well. Add about 1 1/2 cups of the leftover stock. Add lemongrass and the minced chicken. Mix well and simmer gently until chicken is tender and liquid almost evaporated.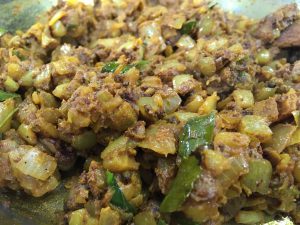 3. Add coconut milk, stir, and cook uncovered until coconut milk is absorbed.
4. Remove from heat. When cool, pick out the lemon rind or lemongrass and the curry leaves.
5. Make pastry: Sift flour and salt into a bowl and rub in the butter with your fingertips. Add the coconut milk and egg yolks mixed together and knead lightly to a smooth dough. If necessary, add a little extra milk or flour.
6. Wrap dough in parchment paper and chill for 30 minutes.
7. Take one quarter of the dough at a time and roll out very thinly on lightly floured board. Cut into circles using a large cookie cutter about 3 inches in diameter.
8. Put a teaspoonful of the filling on the pastry rounds. Wet the edges of the pastry with egg white, fold over to make half circle and press edges firmly together to seal. Ornament the edge by pressing with a key or the tines of a fork.
9. When all the patties are made, fry a few at a time in deep hot oil. Drain on layers of paper towels and serve warm. Can be made ahead and refrigerated (or frozen)—reheat in a 350 degree oven.