This is based on a recipe by Giada de Laurentiis, but uses individual spices, rather than chai tea packets; I've also adjusted the amount of cream so it will set better.
9 ounces dark chocolate chips
1. Combine the heavy cream, tea bags, and spices in a small saucepan. On medium-low heat, warm gently, stirring occasionally, until bubbles just start to form around the edges of the cream, about 5 minutes. Simmer 3 minutes more and then turn off the heat.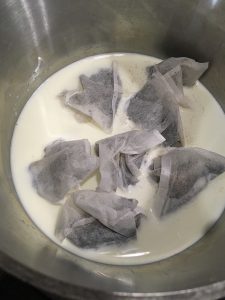 2. Place the chopped chocolate and salt in a medium bowl. Strain the hot cream mixture through a fine-mesh strainer over the chocolate and let sit for 3 minutes.
3. Slowly whisk the now-melted chocolate into the cream, starting with small circles in the center of the bowl until smooth and completely blended. Refrigerate for about 3 hours until set.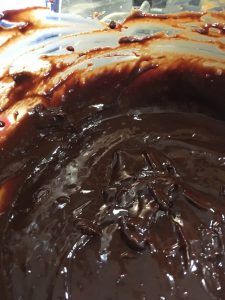 4. Scoop and roll ganache into small balls, then roll in coconut flakes to coat. Refrigerate until ready to serve.