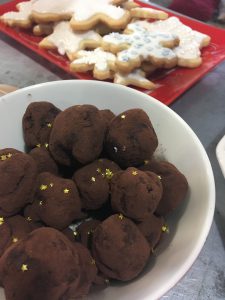 10 ounces dark chocolate chips
½ c. canned coconut milk
½ t. salt
1/4 – ½ t. cayenne
1 t. maple syrup (or treacle)
red cocoa powder for dusting
1. Add chocolate, coconut milk, salt, cayenne and maple syurp to microwave safe bowl and heat for 30 seconds, take out stir, and repeat until chocolate is melted. Refrigerate for about 3 hours until set.
2. Scoop and roll ganache into small balls, then roll in cocoa powder to coat. Refrigerate until ready to serve.