"But why are you making stock?"
It was a fair question — Kevin had asked what I planned to do today, on New Year's Eve, and I said, 'make stock,' and that was confusing because while we cook with stock all the time, we generally just buy it ready-made.
But it made sense to me — I was recovering from a winter sickness, craving soup, and supposedly making stock the old-fashioned way, with all the bones in, actually was good for your immune system, or so I'd read somewhere, at some point.  And more than that, it felt right for New Year's Eve, to head into the next year using up the bones of the old, making something good and fresh and strong for going on with.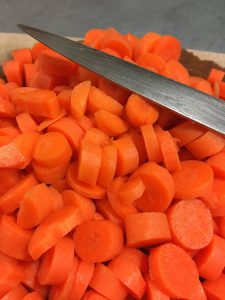 It was going to be a slightly unusual stock, because our grocery delivery had failed to materialize, so no celery, and no wings I'd ordered to supplement the chicken breast I had on hand in the freezer.  But it turned out that a friend had stored a turkey neck in our freezer (long story), so once she gave us her blessing, that joined the chicken breasts in the pot.  I never liked celery anyway, so even though it's classic for stock, I was pretty sure I could get along without it.
I cleaned the kitchen too, with Kevin lending me a hand when I got tired, because in my family, it's traditional to start the New Year with a clean house.  I didn't quite manage the clean house (sorry, Amma), but a clean kitchen is the most important part, I think.  Heart of the home.
And now the stock is simmering, and Kevin and I have poured out glasses of the 25-year-old vintage port that he got us for our 25th anniversary — which was several months ago, but we were having a party then, and it was a little busy, so we've only gotten around to opening it now.   It is tasty.
He's putting the children to bed, and then we will curl up in bed ourselves and watch The Marvelous Mrs. Maisel with our port and chocolate cupcakes.  In an hour and a half or so, the stock will be simmered sufficiently; I'll chill it overnight in the fridge, and then skim off the fat and scum from the top in the morning, so it'll be all ready for soup experiments, or whatever else the new year brings us.
Wishing you a good skimmer for ridding yourself of last year's scum.
More importantly, wishing you plenty of rich, hearty soup — or whatever else you find nutritious and sustaining and delicious — to carry you through the new year.