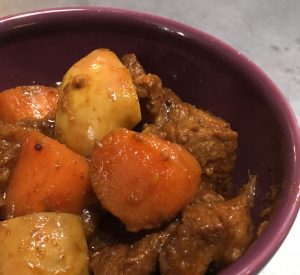 I wasn't sure if this would work, and I have to say, it's a little nerve-wracking taking a great big pot of delicious pork curry and adding something to it that might ruin it….but I do love pork and apples and pork and sweet potatoes, so I thought maybe, just maybe, adding sweet potatoes and apples to my traditional Sri Lankan curried pork would work nicely. And it does!
Minor modifications — used apple cider vinegar instead of regular vinegar, added an extra cup of water when I added the sweet potatoes (just as the pork was becoming tender), because the sauce was getting a bit thick and I wanted to be sure there'd be enough liquid to cook the sweet potatoes, added the apples about 15 minutes after the sweet potatoes and cooked 15 minutes more — which was a little too much; they started to dissolve, but I just used the somewhat soft apples I had on hand. But with firm cooking apples, I think 15 minutes would be about right.
(1 1/2 hours, serves 6-8)
3 medium onions, chopped fine
1 TBL ginger, chopped fine
4 garlic cloves, sliced
3 TBL vegetable oil
1 tsp black mustard seed
1 tsp cumin seed
1 TBL red chili powder
1 TBL Sri Lankan curry powder
1/3 cup ketchup
1 T tamarind paste
1 heaping tsp salt
3 pieces cinnamon stick
3 cloves
3 cardamom pods
1 dozen curry leaves
3 lbs pork shoulder, cubed, about 1 inch pieces
1/2 c. apple cider vinegar
1 c. red wine
2 medium sweet potatoes, cut into large chunks
2 apples, cut into large chunks
1. In a large pot, sauté onions, ginger, and garlic in oil on medium-high with mustard seed and cumin seeds until onions are golden/translucent (not brown), stirring as needed. Add chili powder and cook 1 minute, stirring. Immediately stir in curry powder, ketchup, tamarind, salt, cinnamon, cardamom, cloves, and curry leaves.
2. Add pork and stir on high for a minute or two, browning the meat. Add vinegar & wine and stir well, scraping to deglaze pan. Cover, turn down to medium, and let cook one hour, stirring occasionally.
3. Add sweet potatoes, stir well, and cover again (adding water if needed). After fifteen minutes, stir in apples, cover again. Cook until sweet potatoes are cooked through, adding water if needed to maintain a nice thick sauce (and to keep food from burning), stirring occasionally. Serve hot with rice or bread.