(30 minutes, serves dozens)
My mother is known for these delicious, fussy little appetizers. They present beautifully for a cocktail party.
1 lb medium raw, peeled shrimp
2 medium onions, minced
enough vegetable oil to sauté (about 3 TBL)
1-2 rounded tsp cayenne
ketchup to taste (about 1/4 cup)
1 t. lime juice
1/2 – 1 rounded tsp salt
cilantro or curly parsley for garnish
either buttery crackers or slices of white bread
butter to spread
mustard to spread (optional)
Optional: Cut small circles of white bread and toast in an oven for a few minutes. Spread with butter, or butter mixed with mustard. Alternately, use crackers.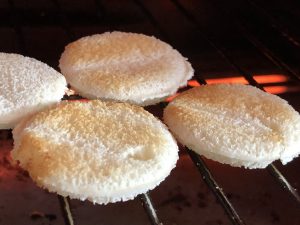 1. Sauté onions in oil until golden; add cayenne and sauté on high a minute or two until darkened.
2. Add shrimp, ketchup, lime juice, and salt; turn down heat to medium and cook, stirring, until well blended.
3. Serve on toast or crackers, placing 1-2 pieces of shrimp on each one and garnishing with a sprig of parsley or cilantro.