Sri Lankan-style egg bites, done in the sous vide — delicious. it was very satisfying finding a way to make my favorite egg breakfast in egg bite form.  The sweetness of the onion, the flavorful heat of the green chilies, all wrapped in unctuous egg and creamy cheese — perfection!
10 minutes active cooking time, serves 7.
1 T ghee or butter
1 medium onion, chopped fine
1-2 green chilies, chopped fine
8 eggs
3 oz. cream cheese
1 t. salt
1 t black pepper
extra equipment: 7 4 oz. / 125 ml canning jars with 2-part screw on lids
1. Fill sous vide cooker with water and set to 172 F.
2. Sauté onion and green chili in ghee until golden.
3. In a blender, combine eggs, cream cheese, salt, and pepper until smooth.
4. Distribute onion-chili mixture evenly among seven canning jars, and follow with evenly distributed egg mixture.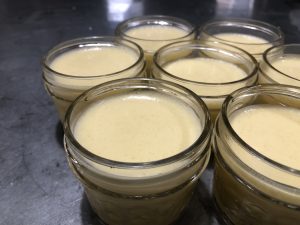 5. Attach lids and close to fingertip tightness — do not over-tighten.
6. Once closed, submerge jars in water bath and set timer for 1 hr.
Serve warm — I eat them straight from the jar, generally, but you can also slide a butter knife around the jar, invert onto a plate, and broil or sear with a torch for color if you'd like a fancier presentation. They reheat easily in the microwave (no lid!) for about a minute on low heat. Enjoy!