The Feast recipe cards are almost ready to order. I do hope people are okay with them being bigger than would fit in an actual recipe box — I realized that I'd promised to put recipe and image on the front, and room to address them and write a note on the back, so you could actually send them through the mail. If I'd done those 4×6 size, the recipes would be unreadably small, I think!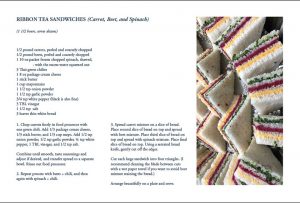 So they're 6×9, and they'll hopefully make fun postcards for Kickstarter recipients to mail to their friends, or even to frame. They are: ribbon tea sandwiches, eggplant sambol, hoppers / appam, chai, flood, and rosewater & pistachio marshmallows.
Huge thanks to Sophie Malik Hurst for saving my butt on getting these done and actually looking good — you wouldn't want to see just how bad my version looked like. BAD. Must up my game on graphic design skills at some point, but in the interim, hooray for helpful folks. Check out her shop, The Biscuit Tin Studio, for truly adorable graphic design work!