Quick question (primarily for vegetarians / vegans).
Some of you may remember that I did two little mini cookbooks before Feast, The Marshmallows of Serendib and Vegan Serendib. I thought to keep the price point low on those e-books, so they're more samplers — marshmallows is just 13 recipes, and vegan is 41 recipes. The vegan one is priced at $5.99 currently. (Marshmallows is $2.99).
I was thinking about it more, and I keep feeling like heck, at least half of Feast is already vegan (as is much Sri Lankan cuisine by nature, esp. since we use coconut milk instead of cow milk). Maybe I should just do another edition of that book, and put ALL the vegan recipes from Feast in there?
I'd already been thinking about doing this for a while, and then last night I just read an article about the vegan race wars in Nosrat's Best American Food Writing 2019: "The Vegan Race Wars: How the Mainstream Ignores Vegans of Color" (Khusbhu Shah). (Recommended, fairly short: https://www.thrillist.com/eat/nation/vegan-race-wars-white-veganism) Which emphasized to me that it'd be good to have more visible representation in America of vegan cuisine from other parts of the world.
But if I do put ALL the vegan recipes from Feast in this vegan e-book, it does undercut the main book sales. (As a reminder, I have 2000 hardcover print copies sitting in a warehouse right now. Eep.) To avoid that, I should probably raise the price to something closer to the ebook price for Feast? (Mascot Books — I don't see a pre-order page for Feast ebook on Amazon — am I missing it? Jed, do you know?)
WHAT'S THE ACTUAL QUESTION, MARY ANNE?
I guess this is a question mostly for vegans (I'm not sure whom I know who is vegan, aside from Swati?) and maybe vegetarians:
Would you be interested in buying a 100+ recipe vegan version of Feast of Serendib, at something like $9.99 for the ebook? With a possible print edition to follow eventually, if there's interest and I have time? (Really, more if Stephanie Bailey and Heather Rainwater Campbell have time, as I suspect much of the production work would fall to them.)
Or should I just stop thinking about this and just leave the little vegan sampler up there as is? (We're going to have our Feast cover designer Jeremy John Parker change the cover regardless, to make it look more like the Feast cover and less like something I hacked together on Canva, so I have to upload a new edition anyway, which is another part of why I'm thinking about all this.)
Small version already up: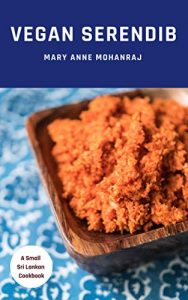 https://smile.amazon.com/Vegan-Serendib-Small-Lankan-Cookbook-ebook/dp/B07GRDVTX3