Packing up the Mother's Day treat boxes for shipping out tomorrow — this is the medium box. Kevin periodically asks me whether it's actually worth the amount of time and effort I put into this, and so I feel like I should note for the record that strictly speaking, it isn't. I have to run the numbers at some point, but I'm guessing I barely break even on doing these boxes. So why do them?
a) It means that when I'm doing recipe development, I can make back some of the costs of ingredients and time to try variations until I settle on a recipe I really like. It's a shame I can only do that for items that I can ship — I can't easily send out curries! The plan for Feast is that we're going to release smaller cookbooks in future months, including one for sweets that I'm hoping to have ready by October or so, in time for holiday baking. So everyone who's ordering these boxes, thanks — you're helping me develop more and better recipes for that! (Which also means I can post the recipes, which feel like tiny gifts to the world in the midst of all this.)
b) it's a nice break from the computer — especially now, during pandemic times, it's really easy for me to spend most of the day sedentary. For the first month or so, I spent so much time on converting my classes to online versions, not to mention researching masks and mutual aid, that my poor Fitbit was shouting at me that I was only getting 2K steps a day or so. Just lots and lots of sitting. Baking is much more physical, and when I mix cooking and gardening into my day, I feel physically better at the end of it.
c) I just like sending out presents. I mean, I know people have paid for these items, but it still feels like sending out presents, you know? Here's everything that's going into a medium box this time around:
1 Lily-of-the-valley soap
1 Lily-of-the-valley bath salt
1 Lavender soap
1 Lavender bath salt
5 Spiced Chocolate cookies
5 Jaggery Chai Spice cookies
5 Lime and Rosewater Shortbread cookies
1 five-piece set of assorted chocolates, marshmallows, and cashew milk toffee
1 set of five postcards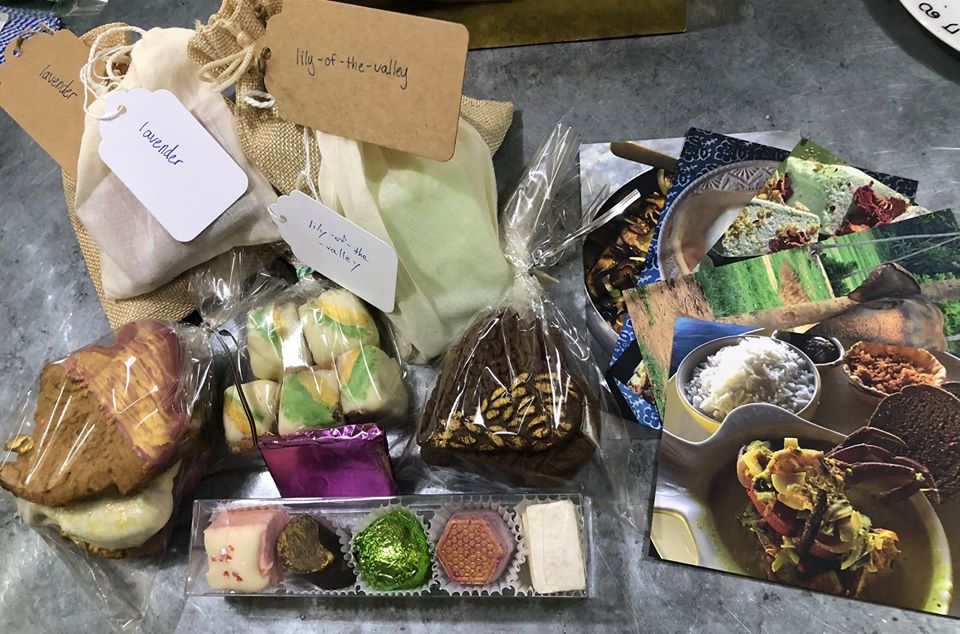 Fun to wrap up, fun to ship out. I mean, if I were doing thousands of them, it would be less fun, but I've limited it to 10 boxes each, max, so that shouldn't be a problem.
And as a bonus, sometimes people add on books — the box I just wrapped also took a copy of The Stars Change and a copy of Feast, the one I'm doing next wants a copy of Perennial. More people reading my books = yay! If they eat some lime shortbread while they're reading them, even better. 
Please order by end of today if you want them shipped out in time for Mother's Day! Here is the link:
https://serendib-kitchen.myshopify.com/?fbclid=IwAR2etl4wAJJD2SG8tw9zlPPjOnYSrXIe_2sGyB4-PQlsFKsmfbRRZuJkYCc