Serendib Kitchen Summertime Flash Sale! Buy a cookbook, get an extra treat ($10 – $15 value).
Today only, July 15, get a free gift when you purchase any edition of A Feast of Serendib, a Sri Lankan cookbook! To claim your freebie, let us know which option you'd like in the 'notes' section at checkout!
Your choice of one of the following:
• 8 oz bag of homemade Sri Lankan curry powder (only in US, sorry, regulations!)
• 2 bars homemade soap
• assortment of handmade bookmarks and Serendib Kitchen recipe postcards (6×9)
• a mask sewn from my fabrics (pattern subject to availability)
Mask fabric options can be viewed at our Shopify site — for soaps, we currently have two: lilac & lilies and orange creamsicle, alternatively, bath salts in lavender or rose & passionfruit.
FINE PRINT: One small but important note that we couldn't fit into the graphic — if you get a print edition, shipping for the treat is included in regular shipping costs. If you get a digital edition, shipping will be extra (and we might need to sort out the specifics with you via e-mail, because it gets a little complicated). Local porch pick-ups, no shipping to worry about, of course!
Order here: https://serendib-kitchen.myshopify.com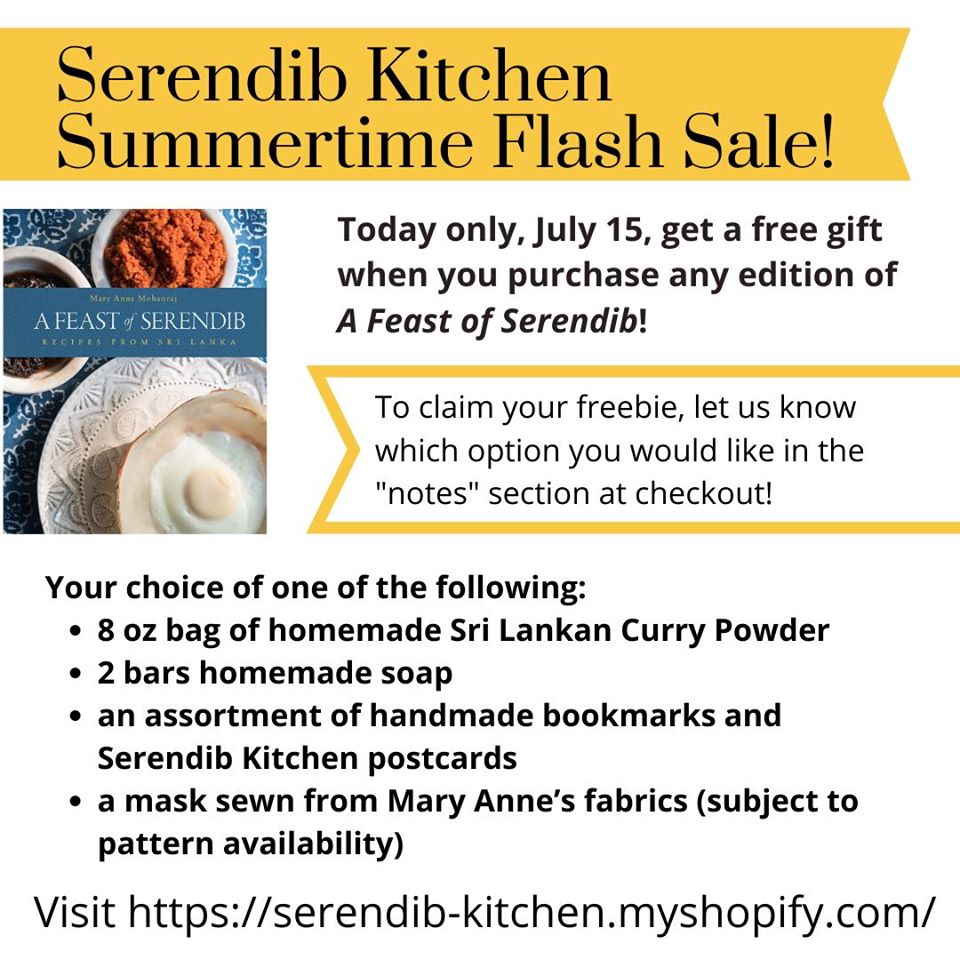 *****
• Lots of sample recipes here: http://serendibkitchen.com
• Check out one of our cooking videos on YouTube: https://www.youtube.com/channel/UCWsyMUej2ppby36zPmisRbQ
PUBLISHER'S WEEKLY starred review: "Mohanraj (Bodies in Motion), a literature professor at the University of Illinois, Chicago, introduces readers to the comforting cuisine of Sri Lanka in this illuminating collection of more than 100 recipes. Waves of immigration from China, England, the Netherlands, and Portugal influenced the unique cuisine of Sri Lanka, Mohanraj writes, as evidenced by such dishes as Chinese rolls (a take on classic egg rolls in the form of stuffed crepes that are breaded and fried); fish cutlets (a culinary cousin of Dutch bitterballen fried croquettes); and English tea sandwiches (filled here with beets, spinach, and carrots). With Sri Lanka's proximity to India, curry figures heavily, with options for chicken, lamb, cuttlefish, or mackerel. A number of poriyal dishes, consisting of sautéed vegetables with a featured ingredient, such as asparagus or brussels sprouts, showcase a Tamil influence. Throughout, Mohanraj does a superb job of combining easily sourced ingredients with clear, instructive guidance and menu recommendations for all manner of events, including a Royal Feast for over 200 people. This is a terrific survey of an overlooked cuisine."