Traditionally, we don't do a lot of roasting in Sri Lanka — too hot, I suspect! But here in Chicago, as it gets cooler out, roasting is a nice, easy option; it takes time, but very little effort. And if you prepare a spicy curry sauce separately, this method lets you adjust spice levels easily to the taste of your guests (or kids). The lamb itself is flavorful but not spicy; the potatoes ditto. The sauce adds a nice kick of heat for those who enjoy it!
Lamb:
3-4 lb. boneless lamb leg or shoulder
2 tsp. ground ginger
2 t. garlic powder
2 tsp. roasted curry powder
1 tsp. turmeric
1 tsp. salt
1 tsp. black pepper
1/2 c. vinegar
Potatoes:
dozen cloves garlic (unpeeled)
3 onions, coarsely chopped
3 lbs. new potatoes, in roughly 2 inch cubes
1-2 t. salt
1 t. black pepper
2 t. mustard seeds
2 t. cumin seeds
2 T vegetable oil
Curry sauce (optional):
2 T butter
1 t. red chili powder
2 T ketchup
1 t. salt
1 c. coconut milk
1 c. water
1. Mix spices for lamb together. Pierce the lamb all over with a fork or skewer and marinate in spices and vinegar for 2-4 hours. (I find this easiest to do in a plastic bag, turning periodically.)
2. Preheat oven to 450 F. Mix garlic cloves, onions and potatoes in a large roasting pan with the vegetable oil; rest lamb on top, fat side up.
3. Roast 15 minutes, then reduce heat to 350 degrees and roast until internal temperature reaches 135-145 degrees (for medium-rare or medium meat), about another 60-90 minutes.
4. Remove meat to a carving board and let rest 10 minutes, then slice and serve with the potatoes and onions.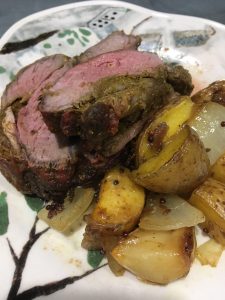 5. While resting, if you'd like, you can make a curry sauce. Put roasting pan on stovetop burner, add butter, chili powder, ketchup, salt, coconut milk, and water. Stir and bring to a boil, then keep stirring and cook down until it makes a nice sauce, about 5 minutes. Pour into a gravy boat or measuring cup with spout and ladle over meat and potatoes. Enjoy!